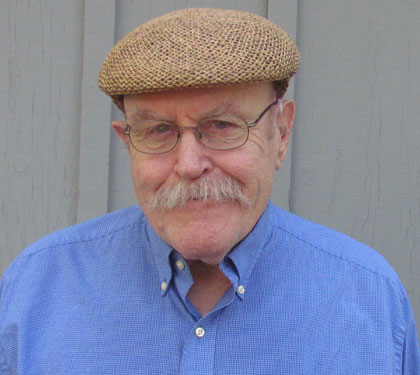 Wayne Clark is an accomplished painter and a devoted family man, and he is an inspiration to those who know and love him.  He is a native Kansan, and had his first brush with art during his freshman year at the Municipal University of Wichita as a model for the legendary art teacher Clayton Staples.  A year later he was off to Word War II in the Army Air Corps.  In 1947 he returned to college on the GI bill, and after a reunion with Staples, he enrolled in an art appreciation class that launched him into a career in the world of visual art.
Wayne studied at the Kansas City Art Institute when Thomas Hart Benton, painter of the Kansas Statehouse murals, was dean emeritus.  In 1948 Wayne married Joan Baker and returned to Wichita to complete his degree in fine arts at Wichita University in 1950.
In his early career Wayne taught art in public schools and he taught technical perspective in vocation technical school.  He worked at Boeing as a production illustrator, and later in Engineering Handbook as an illustrator, art editor and supervisor producing flight and maintenance manuals for the B47 and B52 aircraft.  After 13 years  he left Boeing to pursue a career in commercial art.
As a commercial artist Wayne drew and painted everything from newspaper and magazine ads to filmstrips to giant billboards.  Then he headed west for the San Francisco Bay Area to illustrate medical and science textbooks for publishers such as McGraw-Hill, Addison-Wesley and Brooks-Cole.  He was also a technical illustrator for many of the Ortho "How-to" books.
For fifteen years Wayne has divided his time between Wichita and Point Reyes Station, a small coastal town just north of San Francisco.  Point Reyes gave him better access to his clients in publishing and brought him closer to the natural splendor of the California coast.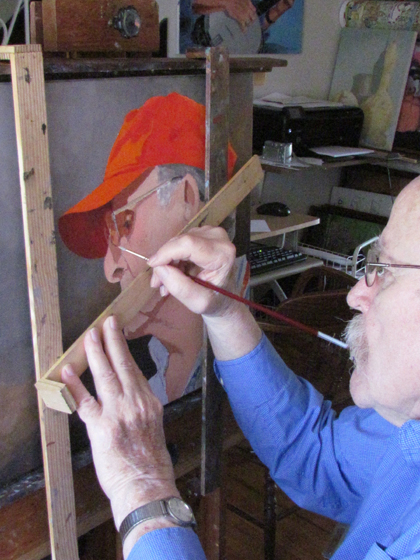 Wayne's work as a painter is inspired by nature, but it is also enriched by his experience as a father of seven children, many of whom have paid him the ultimate compliment of emulating his career in art.  Times were seldom easy, but despite economic hardship, he took seriously his parental responsibilities.  "Most people have only one black sheep, I have a whole herd of them," he jokes.  Wayne's most recent challenge is Parkinson's disease, but despite uncontrollable tremors in his hands, he still diligently, lovingly applies brush to canvas, following his passion.
Wayne is now retired in Wichita and continues to devote his time to painting. His works reveal an original and true sense of design, inspired by his surroundings.  From mountainous coastlines to the vast freedom of the Midwestern plain, Wayne Clark captures what he sees with depth and insight, a wisdom that comes only with maturity, and the indomitable will to keep doing it.